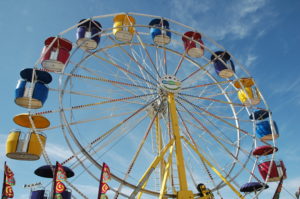 The Avon Summer Carnival returns Thursday, June 8 through Sunday, June 11, bringing fun, games and decadent fair food to the valley. In addition to enjoying thrilling rides and deep fried delights, it's an enjoyable way to support several local non-profit groups.  Battle Mountain's Future Business Leaders of America (FBLA), Bright Future Foundation's Buddy Mentors Program and Samaritan Center of the Rockies each receive a portion of ticket sales.
Tickets will be available at the following locations and dates.
– City Market in Avon on Sunday, June 4 from 11:30 a.m. to 1:30 p.m.
– Walmart in Avon on Monday, June 5 from 5:00 to 7:00 p.m.
– City Market in Eagle on Tuesday, June 6 from 3:30 p.m. to 5:30 p.m.
– Bright Future's offices in the Westgate Building at 1060 W. Beaver Creek Blvd. in Avon until 5:00 p.m., Wednesday, June 7. Our offices are open 9:00 a.m. to 5:00 p.m. daily.
Please bring cash to purchase tickets, as check or credit card can not be accepted. Unlimited ride passes are $20 each. Tickets are also available at the Avon Police Department, Vail Police Department, Marko's Pizza in Edwards and the Samaritan Center in Edwards.
The family-friendly event is made possible by several sponsors, including Traer Creek, Beaver Creek Resort Company, Vail Honeywagon, Vail Daily and KZYR.  The Carnival is located east of City Market in Avon. Tickets will be $30 each at the carnival gates, so buy in advance!