STATEMENT OF NEED

Our current shelter, the Freedom Ranch Safehouse was founded in 2002 as the only shelter in Eagle County
In December, 2013 the lease was amended to a five year lease due to the proximity of the shelter to airport operations. The current lease expired in December, 2018 creating the need for a new emergency shelter in Eagle County.
Confidential location, maximum capacity of 18 to 21 adult and child victims of violence
45-day maximum stay with intensive case management including assistance w/ access to mental health and legal services
The facility served 71 adult and child victims in 2019
DONATE TO OUR CAUSE

I never thought my children and I would be safe again. Bright Future gave me hope and the confidence to rebuild our lives.

– Domestic Abuse Survivor
THE VISION

Create a welcoming, sustainable environment that helps to empower all survivors, their children and pets
Include gardens and safe outdoor play areas that promote well-being
Enhance our security systems to ensure safety for families
Design efficiency type units that allow for families' privacy
Create common living areas that allow for community connection
Expand offices, counseling and meeting rooms
Create community awareness of our work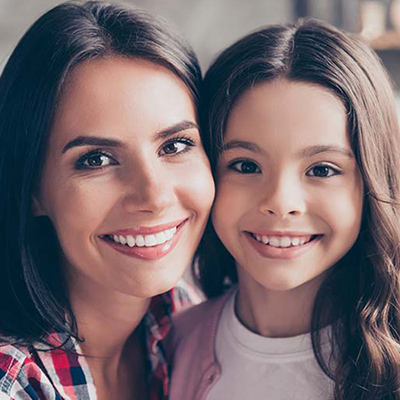 BRIGHTHOUSE $3.4 MILLION FUNDRAISING CAMPAIGN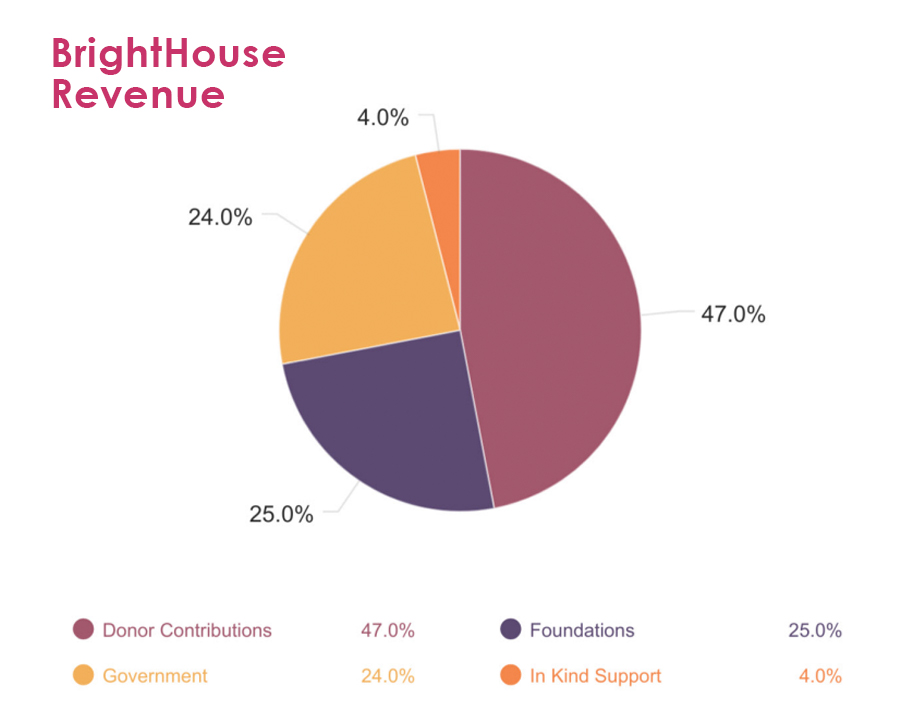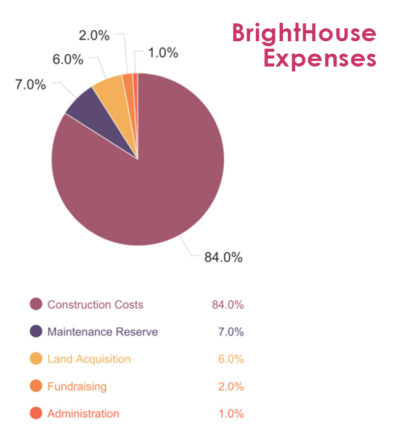 PATRON LEVELS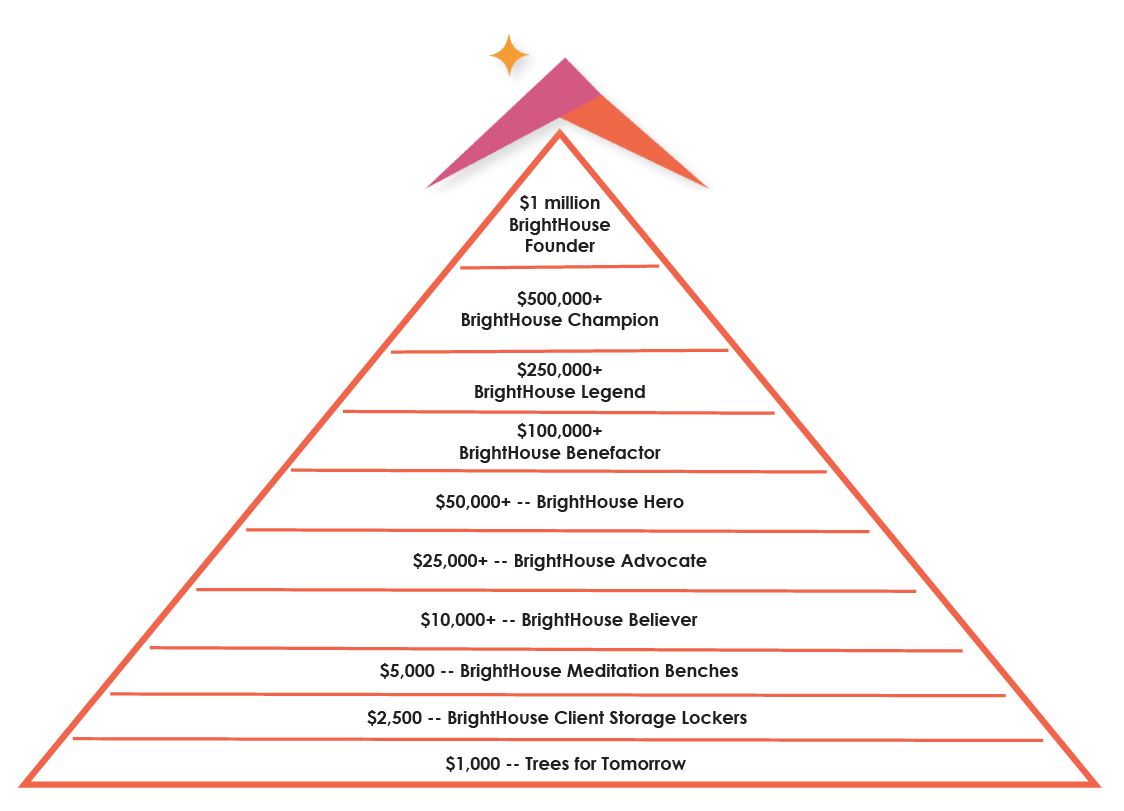 Champion, Legend & Benefactor Level Naming Opportunities
Founder
BrightHouse Campus
SafeHouse Wing
Behavioral Health & Advocacy Wing
West Wing Garage
Stellar Staff Apartment
Friends and Family Living Room
Collaboration Kitchen and Dining Room

Hero Level
Naming Opportunities
Bright Light Family Suite (1)
Bright Light Family Suite (2)
Bright Light Family Suite (3)
Bright Light Family Suite (4)
Accessibility Suite
Lifting Spirits Elevator

Advocate Level
Naming Opportunities
Sunshine Children's Playground
Teambuilding Training Room
Sunflower Garden
Going to the Dogs Run
Survivor's Stairway
Reflection Counseling Room (East)
Reflections Counseling Room (West)
Friends and Family Porch
Welcome Home Reception Area
Advocacy Office
Leadership Office

Believer, Supporter & Grassroots
Naming Opportunities
Meet and Greet Intake Desk
Sunset Reflections Desk
Corridor to Courage
Busy Bee Business Center
Leadership Office
Single Survivor Suite
Dress for Success Wardrobe
Keep it Clean Laundry Room
Supporting Staff Center
Comfort Rest Room East
Comfort Rest Room West
Buddy Mentors Storage Room
Trees for Tomorrow (10)
Meditation Benches
Client Storage Units (5)
FOUNDING PATRON

The BrightHouse campaign was made possible by a $1 million donation by dedicated BFF board member Doe Browning. Doe took the initiative and pledged the lead gift that turned a dream into a reality "As our community endeavors to provide affordable housing, Bright Future Foundation hopes to build a shelter in the purest form for any and all who seek safety, counsel and healing in the wake of extraordinarily difficult circumstances," said Browning. "Our shelter will bring dignity back to many who suffer, enabling them to live, work and play in our beautiful valley with trust and without fear." Browning's pledge represents the single largest donation to Bright Future since the organization's inception more than 30 years ago.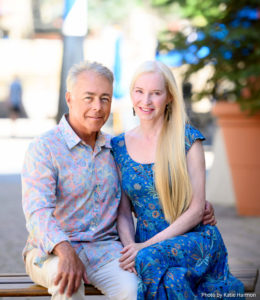 "Doe spurred us on to proceed with this campaign with her enormously generous contribution," said BFF Board President Lissa Tyler. "We are a grassroots organization serving the critical needs of our community, and Doe's commitment puts us on the path to freedom for our clients." "Doe's care, concern and largesse to the Bright Future Foundation will ensure safety, security and long-term healing for the most vulnerable families in our community for years to come," said BFF CEO Sheri Mintz.
CORPORATE & FOUNDATION DONORS

A-Phase Electric
AEC Architectural Engineering Consultants
Active Energies Solar
Alpine Bank
American Gypsum
Archibeque Land Consulting, Ltd.
Bailey's Garage Doors
Decorative Materials
Eagle Valley Behavioral Health
East West Hospitality
EL POMAR FOUNDATION
The Gallegos Corporation
The Gates Family Foundation
H-P Kumar
High Country Closets
Hunn Consulting Group, LLC
Jacobs + Interiors
Kum & Go Charitable Foundation
North 39 Energy
Pierce Austin Architects
RA Nelson
Ruggs Benedict
Select Surfaces
Shamrock Fine Woodworking
Sign Design & Awnings, LLC
SK Shading
Slifer Smith & Frampton Real Estate
Stone Concepts
Synergy Systems
Thompson Welding
Vail Health Foundation
GOVERNMENT DONORS

Colorado Department of Local Affairs
Eagle County Government
Town of Avon
Town of Gypsum
Town of Vail
INDIVIDUAL DONORS

Anonymous
Holly and Jason Anderson
Samantha and Scott Anshutz
Nancy berg
Mariette and Scott Blackett
Winslow and Ross Blankenship
Rene Blanchette
Erin and Bob Boselli
Nancy Boyce
Kam Bozich
Kim Bradley
Lindsey Breed
Ron and Lisa Brill
Doe Browning and jack hunn
Cathy Jones and Russ Coburn
Linda and Craig Cormack
Cara Connolly
Jan and Philip Coulson
Jennifer Coulson
Amy and Steve Coyer
Elizabeth Cronin
Nancy and Andy Cruce
Lisa and Douglas Currey
Silvia and Alan Danson
The Ronald Davis family foundation
Dimond Charitable Fund
Amy and Connie Dorsey
Jane and Reed Eberly
Andrea Eddy
Elizabeth Edwards
Cindy Engles/TeXas Women's Foundation
Kristi and Craig Ferraro
Brooke Ferris
Cookie and Jim Flaum
Susan and Harry Frampton
Tonya Frank
Victoria Frank
Lynn and John Gottlieb
Sheika gramshammer
Nancy Groff
Dana Gumber
Valerie and robert gwyn
Rachel Halzel
Dwight Henninger
Kay Hensley
Mira Hozzova
Lindsey W. Hubbard
Claudia Hurtado-Myers and Greg Myers
Arthur and Jodi Israel Fund
Yvonne and chris Jacobs
Alexia and Jerry Jurschak/Jurschak Family Foundation
Amy and carter Keller
Tessa and steven Kirchner
Judy and Alan Kosloff
Laurie Knott
Laine and Merv Lapin
Suzanne and Jim MacDougald
Gail and Jay Mahoney
Diana Mathias
Christine and thomas Mayhew
Monica and keith McCarroll
Ferrell and Chi McClean
Brenda and Joseph McHugh
Heather McInerny
Anna Menz
Misha Moritz
Elise and Vic Micati
Sheri and Michael Mintz
Tom Moorhead
Laurie and Tom Mullen
Paula and Prentice O'Leary
Happy Power
Mary Anne and Paul Redmond
Terri and John Reichert
Patrice and Marshall Ringler
Sally and Byron Rose
Shawn Rudy
Pegasus Rumaine and Mark Luzar
Sue and michael rushmore/rushmore family charitable fund
Stacy Sadler
Diana and Matt Scherr
Elaine and Steven Schwartzreich
Stephen Sinacore
Charles Smallwood
Sarah Steffensen
Susan and Steve Suggs
Dr. Agnes Hsu-Tang and Oscar Tang
Gregory Tibboel
Shawna and Marty Topor
Angela and Scott Tucker
Carroll Tyler
John R. Tyler
Lissa Tyler and Mike Larson
Amanda and Andrew Veit
Jennifer T Wanner
Colleen Weiss-Hanen and chris hanen
Debby Webster and Stephen Blanchard
Mitch Whiteford
Deborah Wittman and Rik heid
Susan Zapletal