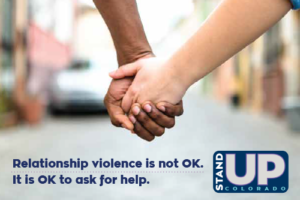 Bright Future Foundation is taking an innovative approach in its efforts to prevent domestic violence and sexual abuse. The organization has joined with the Colorado Coalition Against Domestic Violence and other partners across the state to launch the new Movement to End Relationship Violence: Stand Up Colorado.
Traditional prevention initiatives put the burden for change on survivors. However, Colorado's campaign puts the responsibility on those who abuse to end the violence. Stand Up Colorado is a statewide, collaborative, multi-year relationship violence prevention campaign that goes beyond public awareness to alter behavior and effect long-term social change. The movement will prevent future relationship violence by shaping an informed, zero-tolerance public attitude that inspires individual and community action.
"Stand Up Colorado starts with the message that relationship abuse is not okay, but it is okay to ask for help," said Bright Future Foundation Executive Director Sheri Mintz. "It is the responsibility of those who use abusive behaviors to seek help for themselves to change their behavior.
Bright Future was one of the approximately two dozen organizations involved in the year-long planning and implementation process. Moving forward, there will be a statewide social change campaign and local initiatives by participating organizations like Bright Future.
"A social change we want to see is the creation of more 'upstanders;' individuals who intervene when abuse does occur," added Mintz. "It is vital that all members of the community take action to help end relationship violence."
Stand Up Colorado offers a 24/7 hotline staffed by relationship violence advocates (855.9StandUp) and a comprehensive website with information and resources for ending relationship violence. Click here to visit the Stand Up Colorado site.