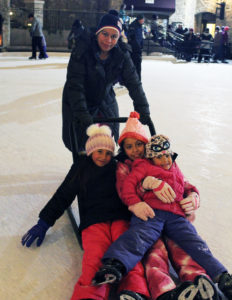 Thank you to the good people at Vail Resorts EpicPromise and Howard Head Sports Medicine for helping make the holidays bright!  Youth and mentors from Bright Future Foundation's Buddy Mentors Program celebrated the season with an evening full of festivities in Lionshead on Tuesday.
The evening started with ice skating at Arrabelle rink. It was a picture perfect holiday scene, complete with twinkly lights, skaters bravely racing about the rink while others found their footing on the unfamiliar surface, and everyone got the chance to warm up by the fire.
Dinner was a delicious spread. Turkey with all the trimmings and the quintessential holiday treat-pumpkin pie topped with whipped cream.
And the gifts! Volunteers from Howard Head worked tirelessly as Santa's helpers to make sure that every child had a personally selected present. So much time, effort and love went into this hefty task. All were thrilled to be included, and there were many happy faces as the children opened their treasures.
We hope that all who contributed to this lovely event can take some time with family and friends to enjoy the holidays, and look forward to the possibilities we have to connect with our vibrant communities throughout the coming New Year. You helped to make this magical evening happen for local youth!
Warm regards and many thanks,
The staff, families and volunteers of Bright Future Foundation and Buddy Mentors