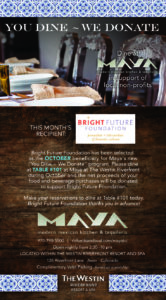 Bright Future Foundation is thrilled to be the recipient of Maya Restaurant's You Dine ~ We Donate program thru the month of October.
MAYA
MODERN MEXICAN CUISINE & TEQUILA BAR
Carefully crafted, yet bold flavored. Rooted in tradition, yet adventuring into contemporary tastes.Chef Richard Sandoval blends the earthy flavors of his native Mexico with worldly ingredients and creative cooking techniques to create the Modern Mexican Cuisine at Maya. Our hospitality is warm and Latin. We welcome you to linger over drinks, rediscover Mexican classics – mouth-watering guacamole, tacos with authentic fillings and fresh-made tortillas – and savor the Chef's signature dishes.
Call (970) 790-5500 to make your reservation for Table #101 today!