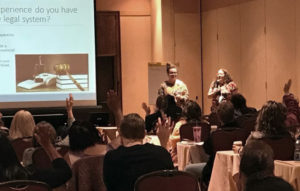 Bright Future staff and interns were among the almost 300 advocates who attended the recent Colorado Advocacy in Action Conference (CAIA) in Vail.  The conference included two full days of workshops and roundtables, all designed to provide a comprehensive curriculum to benefit the often overlapping issues and work of community based sexual assault and domestic violence advocates around Colorado.
"Each year, our board of directors encourages the staff to attend any workshops that are interesting and beneficial to our work," said Bright Future's Executive Director Sheri Mintz. "It provides an opportunity for us to interact with fellow advocates from around Colorado and the U.S. We're able to share our experiences and successes, and we also benefit by hearing from others."
During the conference, Mintz attended a planning session for a soon-to-be launched statewide domestic violence prevention campaign titled "StandUp Colorado." Bright Future was selected to be a part of this groundbreaking program, which is based on a similar campaign in New Zealand.
Started in 2011, CAIA is the only statewide conference specific to domestic violence, sexual assault, stalking, and dating violence advocacy.  The conference is co-presented by Colorado Coalition Against Domestic Violence (CCADV) and Colorado Coalition Against Sexual Assault (CCASA), both of which Bright Future is a member.