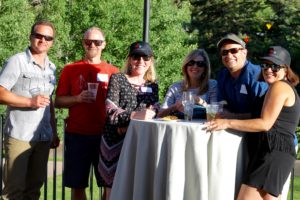 The Buddy Mentors Program has inspired and fostered many Eagle County youth within the past 30 years. Organizers are thanking a few supporters who have contributed to the program's long-term success at a special recognition and recruitment celebration hosted Thursday, June 29 at the Westin Riverfront Resort & Spa.
The party is open to the public as a chance for the community to hear more about this critical and rewarding program in a fun, casual, no-pressure environment. Buddy Mentors is a program of local organization Bright Future Foundation, it and presents an opportunity for community members to make a difference the life of a local child who is in need of a positive role model.
Local rock group Renegade Sons returns to entertain the crowd, and the event includes light appetizers, a cash bar, and free craft beer donated by Vail Brewing Company and Crazy Mountain Brewing Company. Attendees will have a chance to mingle with Buddy Mentors staff and current program participants. New this year is the recognition of three community supporters.  Yvonne Jacobs is Exemplary Senior Buddy, Cheryl Jensen is Friend of the Buddy Mentors Program, and Slifer Smith & Frampton Real Estate is Outstanding Corporate Supporter.
In addition to being a long-time senior buddy, Yvonne Jacobs is a Bright Future board member. Jacobs and her buddy match, Lexus, have been paired since 2011, and the Jacobs family treats Lexus as one of its own. "As a family, we're just so grateful that she is part of our lives," said Jacobs. "For my kids to know her I think has been a really good thing. For Lexus to see this is a normal life for a teenager in the valley, has been a really good thing. My kids are always thinking of Lexus."
Prior to arriving in Vail, Cheryl Jensen organized an annual party for a youth mentorship program in Tahoe, California. Jensen recognized the need for a similar celebration for Eagle County youth, which has been hosted continuously at Adventure Ridge on Vail Mountain since 1999. Many of Jensen's friends, also known as "elves," purchased and wrapped gifts and served food at the event in its early years.
"A friend was Santa Claus the second year, and he was excited about the opportunity," said Jensen. "But he forgot to refresh his knowledge of Santa and his reindeer. A child asked him where the reindeer were and if he could give "Dasher" a hug. Our friend answered, 'Who is Dasher?'  The next year we printed Santa facts for him so he was more prepared."
"Our company has the upmost admiration for the work that is done by the Bright Future Foundation," said Slifer Smith and Frampton Director of Marketing Shawna Topor. "It is incredible the number of families and individuals touched each year that are affected by domestic violence and sexual assault. And their focus doesn't stop on those affected but goes further by focusing on prevention and long-term services."
Junior buddies are referred to the program through counselors, schools, teachers, or anyone who thinks the buddy will benefit from a little extra attention and guidance. Junior buddy candidates often come from homes where a single parent is trying to care for many children while working multiple jobs.  Senior buddies offer encouragement and guidance to their junior buddies, and they also help these children find time to just be kids.