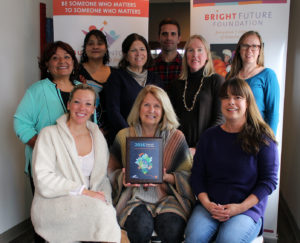 Bright Future Foundation was awarded 2016 Nonprofit of the Year at the Vail Valley Partnership Success Awards Luncheon on Friday, May 12.  Achievements noted in the award nomination included a 2016 grant to expand the Buddy Mentors Program and the success of a rural psychology internship program.
"This recognition from the community and our peers means everything to us," said BFF Executive Director Sheri Mintz. "The work that we do on a daily basis is emotional and it's difficult. It's an honor to have the staff be acknowledged for its incredible work."
Bright Future was one of seven original nominees which were narrowed down to three finalists by a selection committee comprised of last year's winners. Fellow finalists were SOS Outreach and Habitat for Humanity Vail Valley. SOS Outreach serves at-risk youth between with progressive outdoor programs, while Habitat for Humanity builds affordable homes in partnership with local families in Eagle County.
This is the third nomination for Bright Future, which also received the Nonprofit of the Year award in 2011.